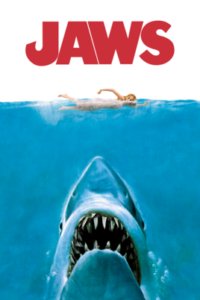 Jaws (1975)
First off, I put this in my top five favorite horror movies of all time! Ok all you smarty-pants out there, I know what you're all exclaiming, "It's not a horror movie!" Oh no, did it scare the dickens out of you the first time you saw it? When you went to the beach and got waist deep in the water, tell me you didn't think twice? Not convinced yet? I guess you thought "Mars Attacks!" was a truer horror flick…
I will never forget the first time I saw Jaws. I was glued to the seat from start to finish. I jumped, I held my breath; this was one of the experiences that made me fall in love with movies. This was probably the first film where I completely forgot everything around me. I was there, in that boat, in that gloomy cabin, with those people – everything seemed so real (and alas, the sea never looked the same again). When I watch it these days I still marvel: the atmosphere and the performances in this film are simply magical.
Based on Peter Benchley's bestselling novel, 'Jaws' centers around the fictional North Atlantic resort island of Amity, which finds itself terrorized by an enormous great white shark. The dynamics of Richard Dreyfuss, Roy Scheider and Robert Shaw's relationship(s) work brilliantly. The differences in their characters persona's is such that they rub each other up the wrong way, disrespect one another and wind each other up but in the end they are there for each other and develop a bond that I think surprises them all.
Jaws start off with one of the most terrifying scenes in horror movie cinema, a young pretty girl goes into the water and is brutally attacked and killed by an unknown creature in the water. The next day Chief Brody investigates suspecting a shark attack, and urges the mayor, Larry Vaughn, to shut down the beach, but afraid of a panic and fewer tourists, Larry ignores the chief's suggestions and keeps the beach open leading to another attack on a young boy. Brody calls in Matt Hooper, a marine scientist to see if they can find the shark. But when another attack ensues and almost kills Brody's young son, Michael, he, Matt, and a cocky man, Quint go out to find Jaws themselves.
This turns into several of the greatest cinematic scenes of all time, like the "Indianapolis" speech brilliantly given by Quint. Robert Shaw's Quint is one of the greatest anti-heroes the movies have ever seen. He is funny and frightening all at once, and the famous soliloquy in which he recalls the tragic sinking of the USS Indianapolis–where, over the course of a week waiting for rescue, at least 90 US Navy personnel died from shark attack wounds–is one of the most chilling and unforgettable performances ever committed to film.
Then, one thing that is interesting about this movie, you do not see the shark until Brody is just chucking blood to attract the shark over his shoulder and Jaws appears roaring out of the water! "We're gonna need a bigger boat!" he replies to Quint. And then the scene where Jaws jumps onto the boat and Quint is trapped sliding into Jaw's, well, jaws! That's the scene that nightmares are made out of! Jaws is one of my favorite films of all time. It's one of those films that should never be missed because it is so important.
Always a joy to experience over and over again, this film is the ultimate scare show to end them all! Sometimes, a lot of us fans cannot seem to get enough of this instant classic!
My Halloween Horror Movie Rating!
My rating, out of five fangs, this one gets 5 bites, and if I could I would give it five more!
Next, I will review the film that scared you back to church!