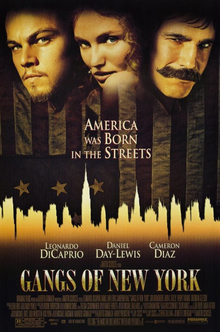 When people sigh over how "tough" New York is now, they're probably talking about queuing an extra few minutes for their lattes, or having their cabs stolen by wannabe Sarah Jessica Parkers. By contrast, with his movie, Gangs of New York, Martin Scorsese takes us on an epic ride through the New York of the mid-19th century, a genuinely tough "dirty old town", which few ever knew existed. This historical saga is certainly crammed with life and the crowd scenes are as confidently mounted as you'd expect. You have to honor its mad ambition, but it's pretty confusing and much too long.
Sprawling over 170 minutes, it's a visual and bloody epic. Take the opening sequence: Two bands of tribal men marching through Gothic caves and recesses, fighting it out with axes, knives and clubs. It's totally prehistoric but real and, therefore, unsettling. The primitive low life that Scorsese creates cannot be the New York we know. Instead, it's the heart of darkness, the center of corruption and lawlessness. That, perhaps, is his attempt to reach the barbaric roots of the acme of modern civilization. And within this story of a city and a nation born in the mean streets, he weaves a personal tale of a son's quest for revenge and his return to honor, but the reality is bla…bla…bla.
I can't get over it; it still gives me pains every time I think of it. It seemed so filled with potential. Great director, Martin Scorsese; great period and setting and subject; great actor Daniel Day-Lewis. But you remember how it all went terribly wrong; its wrongness exemplified by two mortifying star turns by softie Leonardo DiCaprio and an aloof Cameron Diaz. (Daniel Day-Lewis was still great in it, though. He is the main supplier of laughs with his reckless but mesmerizing performance as the villain, Bill the Butcher. Bill is an unabashed moustache-twirler out of Victorian melodrama, made fresh again by Day-Lewis's gift for self-parody. The scariest thing about Bill is not his sadist's flair for twisting the knife but his relentless desire to keep himself amused.)
The Wee People Movie Rating!
Yet here we are with the wrong, wrong, wrong. I hereby give up on Gangs of New York and all its false promise! My rating, out of five shamrocks, this one gets a miserable 2!