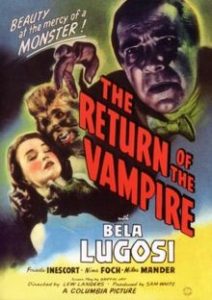 RETURN OF THE VAMPIRE (1944)
In the opener of my Halloween movie review, this black & white (God how I love them) vampire flick, starring none other than Bela Lugosi, the sleeping vampire needs a wakeup call after dark by a well-dressed (really) werewolf that more closely resembled a rodent than a lycanthrope.
This movie originally was to be the sequel to the uber-classic 1931 Dracula. Apparently due to Universal who owned the original rights and Columbia who made this flick, the name Dracula couldn't be used (oh shucks). So Bela plays Armand Tesla (no relation). The dispute between the two mega-companies even prevented the word stake from being used; instead to kill the vampire a spike was necessary.
Without a doubt, without Bela Lugosi this movie isn't worth watching even after a Friday night out on the town where you find yourself in a room spinning round and round. The geniuses at Columbia kill off Lugosi's character in the first ten minutes of the movie, only to have him come back later on in the movie (oh brother!)
What brings back Lugosi's character you might ask? It's a bird…it's a plane? Now come on, get hold of yourself. Tesla's rescuer is none other than Adolf Hitler and his squadrons of Luftwaffe, their bombs drop on a graveyard releasing Lugosi to ravage the countryside. Rodent-man, I meant the werewolf does Lugosi's bidding, Andres, as he's called, speaks the King's English perfectly and dons a finely fitted Brooks Brothers suit and a derby.
It's time to put this movie out of its misery, what a dud! There are many more details, but I'm sure at this point you get a general impression and couldn't care less about them. I'm sad to say kiddies, nothing like the original.
My rating, out of five fangs, this one gets 1 bite.
Stay tuned when I next review a 1960's scary movie that has been touted as a cult classic…