Welcome to Ruggerio's Library. Sit back, get comfy, pour a glass of wine and discover all my books.
In this, Ruggerio's Library, you will find that I've written cookbooks, horror and romance. At first glance, my books are all over the map, but if you look closely they share a common theme: they are books about a struggle to live a life well-lived. I strive to reveal to you the very best recipes, while scaring you and giving you an example of a love for the ages. I believe that the only compass you can follow as a writer is to write the story you, yourself, long to read. Stay tune, this crazy journey is about to make a sharp detour!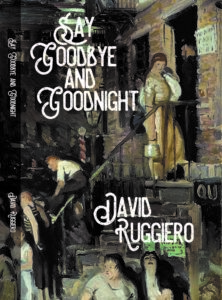 I promise that my Brooklyn will make you smile, rejoice and cry a little bit, but you will love it.
BEST ROMANCE 2020, HONORABLE MENTION– NEW YORK BOOK FESTIVAL.
IRWIN AWARD-BEST ROMANTIC NOVEL 2020
Say Goodbye and Goodnight, one of the best new romance novels of 2020, takes us to Brooklyn in 1977 where we meet an up-and-coming fighter named Anthony Marino who falls for Gia, who becomes the love of his life. But the hatred their affair attracts could be their demise. Set against the backdrop of disco music and the grit of the city, this book takes readers to a time in history that liberated a generation.
Ruggerio says, "Say Goodbye and Goodnight is a novel that I lived. I have laced this tale with real people and real places, and most of all, real romance. It was truly a labor of love that at times I had trouble putting down my feelings on paper." 
Ruggerio's Say Goodbye and Goodnight has received advance praise from prestigious reviewers. Reader's Favorite refers to it as to a "modern-day retelling of a classic Shakespearean tale of love enduring all forms of tragedy," and Sublime Book Review recommends it as "a well-written, unexpected, and unconventional love story."
The book is currently available on Amazon and Barnes & Noble. Also checkout Indiebound.org.
Here are a few reviews of my book;
"Often it felt like God was far off in the distance, though there was always that affirmation of an unseen helping hand. Still, behind every twist and turn, a demon was hiding . . . "
It's a summer of love, family, and boxing for sixteen-year-old Italian-American Anthony "Ant" Marino. As Ant trains away his mornings with Izzy, a boxing coach who reshapes street urchins into respectable young men and tough fighters, Ant navigates a steamy romance with the heavenly Gia, a girl he comes to love, adore, and respect beyond belief. As Ant mediates the tense relationship between his brother, Sal, and his father, Ant becomes a family pillar, wise and determined beyond his years. However, in a city filled with life, food, clubs, and crime, and amid the sweaty days of training and the hot nights of romance, creeps something sinister: the .44 Caliber Killer who preys on young women and reshapes Anthony and Gia's future—and the future of their families—more than either could ever imagine.
David Ruggerio's Say Goodbye and Goodnight paints an immersive image of the Italian dominated neighborhoods of Brooklyn in the 70's. With a cast of characters who are each portrayed as individual elements in the life of protagonist Anthony "Ant" Marino, the story pulls you forward into a constantly moving web of their lives. Ruggerio uses vibrant imagery that engages the reader while also being light-heartedly funny even when dealing with the darker aspects of Ant's life. Lines like "The Greeks had Socrates, the English had Shakespeare, and Brooklyn had Izzy," really exemplify Ruggerio's ability to create metaphors that help the reader to understand the world of his novel.
Ant's romantic journey is written in such a way as to evoke Shakespearean love, acknowledged by the name of the weekend hub of Ant and his friends — "Romeo and Juliet's." Gia and Ant share a love that is described to be true without question, a portrayal which gives a fairytale quality to the otherwise rough-and-tumble world that Ant lives in. The soft, honesty of Ant's love for Gia helps to offset the more hyper-masculine qualities of the Mob lifestyle that he has taken on. Overall, Ruggerio does an excellent job of creating the world and personality of a character that readers will be intrigued to follow through the novel.– Author's Circle
Set against the backdrop of New York City's Italian community, this novel blends New York City brashness and humor with the wit and whimsy of a young man exploring his youth, his ideals, and his purpose. With its Godfather-like characters and settings, this book displays the ever-controversial and ever-changing demands and ties of cultural duty and mindset, familial ties and expectations, and the complexities of father-son relationships. The psychologically thrilling parts of this book stem from its portrayal of the .44 Caliber Killer, an unseen enemy that young Anthony Marino feels he and his friends must stop before he harms the young women in their community. Readers of romance, suspense, and murder mystery will enjoy this book, as will those who enjoy a more historically based type of fiction. —US Review
Say Goodbye and Goodnight is a work of recent historical fiction with themes of interpersonal drama, penned by author David Ruggerio. Literary in its concept and narrative style, this is a modern-day retelling of a classic Shakespearean tale of love enduring all forms of tragedy, and it is set in Bensonhurst, New York City, in the year 1977. Here, boxer Anthony Marino meets the beautiful Gia in a discotheque and knows at once that his heart has been stolen away. But all is not well for the young lovers when they discover the agonies of what it will mean to spend their lives together, assuming they survive that long. Author David Ruggerio gives a lavish literary quality to every well-crafted and meticulously thought out sentence of his work, which is rewarded in the reader having a full experience of the time and place in which his story is set. The nostalgia and glory days of New York City and the America of the late seventies oozes from every page, the characters enveloped in the sepia-toned scenery of a kind of hazy golden age of music before technology took over and everything turned to chrome. The plot is well structured to convey the Shakespearean tragic romance, with one or two surprises thrown in to keep things fresh, and I also really enjoyed the 'Kings county' dialogue with its sharp edges and down to earth poetic rhythms. Overall, Say Goodbye and Goodnight is a highly accomplished work that literature fans are sure to enjoy.–5 Stars by Readers' Favorite Although not on shelves until June, Say Goodbye and Goodnight should most definitely get your motor running when it comes to a memorable, brash, romantic, intelligent, and very "cool" book that will easily garner rave reviews from anyone who takes the time to sit, read, and enjoy! As if taking West Side Story and combining it with Rocky, then adding in a romance of young lovers that rival that of Shakespeare's famous tragic couple, this story covers all emotions. When we first meet up with Anthony Marino (AKA: "Ant") we find ourselves roaming the streets of Brooklyn, NY, in 1977. Yes, there are discos, electric music, and the Italian neighborhood of Bensonhurst that sticks together and fights for one another no matter what. There's even a club that sits atop a car dealership aptly named, Romeo & Juliet's. At 16 years of age, Ant is an integral part of this area which is, as the author states, filled with Italians whose ancestors came from the boot of Italy, as well as the "prideful people" who emigrated from Sicily—meaning you were either a housewife or a stonemason. Anthony, however, is a fighter. He is working to become that one star who deserves to beat the champ. His older brother, Sal, actually has a secret he only told Ant in order to keep it away from their father. Apparently, Sal has joined the police force instead of continuing the family line of stonemasons; this is wrong because the eldest son is expected to follow in his father's footsteps. That's not the only curveball thrown at Anthony. He also lives a life that includes men high up in the Mob who he shows respect to, yet is a bit nervous that one day he will have to work for because of the close-knit family tree and the sense of duty that's prominent in his culture. He speaks about the monthly casino run out of a warehouse, and the wiseguys who are in charge. Even though Ant likes the idea of an easy life, he is determined to be like his hardworking father who did back-breaking work in order to raise and protect the family. When not at school, Ant practices under the tutelage of Izzy Moischel, a Jewish fighter who made his name during the Great Depression. Izzy turns boys into true pugilists at his Youth Center, which brings pride to the community. It is here where Ant first sees Gia. She walks in, takes a seat with her friends, and he immediately becomes electrified by her presence. (The author uses stunning language for this first meeting by describing Gia's beauty as being so great that "the pallet God used to create her made Michelangelo shed a tear.") While Gia and Ant fit together in their minds and hearts, for others they are as opposite as night and day. Jealousy and anger are thrown at them that would make normal humans walk away from the relationship. But for these two, they own that epic love that will supposedly protect them from prejudices and people who refuse to open their minds to a different culture. On top of all this is the hunt for the .44 Caliber Killer who is harming young women in other neighborhoods. A man Ant and his friends wish to stop before he can bring tragedy down upon their heads. You will find a smile on your face as the author uses 70's terminology. From talking about 'wicked storm troopers and adorable droids who took us on a whimsical journey to galaxies far, far away,' to speaking about Elvis and how the 'King was laid to rest but his music still reigned supreme,' the writer draws the reader in, sets up the surroundings to exactly match that era, and tells his tale perfectly. The addition of hand drawings in this book are incredible, as well. In the end, the lessons learned in regards to what a "good" life really is, and the romance of Ant and Gia, make this book a riveting read that causes you to stay up late in order to see what happens next. Quill says: A book that is truly appealing no matter what genre you prefer. Ant and his world are something this reader will never forget. –Feather Quill.com Say Goodbye and Goodnight is the story of Anthony, an Italian teenager living in Brooklyn in the 1970s with his parents and older brother. In an Italian household, there are many family traditions followed and expected to be honored compared to other nationalities. This concept shows itself in various circumstances throughout the story. Anthony is a boxer, working his way up the ladder as he quickly gains experience. Boxing is a big part of his life, but out of nowhere, a special girl becomes an even bigger part. In this story, Anthony experiences his most heartfelt summer thus far. Heartbreak, love, lust, and revenge all play a role in his life. After the senseless death of a loved one, he joins forces in the communal hatred directed at a rival gang to prove that, especially with Brooklyn Italians, nobody messes with their people in their neighborhood. Meanwhile, a murderer is running rampant close to their stomping grounds. Amid everything happening, Anthony will need to use his willpower to keep his love from dictating important parts of his life. It's the 1970s in Brooklyn, New York. Many things are different in this decade than in our present time. For one, PC (politically correct) terminology is not as common, but people's thoughts and actions are the same throughout the decades. In the story, there are many parts when cursing and the usage of politically incorrect words are present. There are also scenes of violence and sexuality. The author makes it clear that Italian girls/women know just how to dress to make themselves the eye of every man around. The violence is from the boxing matches as well as other random fights that are inevitable with testosterone and pride raging. It's not surprising that there are scenes of sex and sexual tension given the characters' ages. The story reads well; it's easy to follow what's happening and immerse yourself in the characters, especially the main one, Anthony. There are some select Italian words included in the text, as well as some from other nationalities; I found this enjoyable, to learn the authentic way in which different nationalities speak. The story is told from Anthony's perspective; Ruggerio realistically writes Anthony's narrative by including Anthony's thoughts alongside his words and actions. Anthony seems like the type of person you would want to know in real life, and the romance he experiences during this particular summer is one that every individual will wish to experience in their lifetime. This story will be enjoyed by romantics as well as readers who like a good story including a likable Italian boxer.–Manhattan Book Review Star-crossed lovers swirl and fearless fighters duke it out during a hot Brooklyn summer in Say Goodbye and Goodnight by author David Ruggerio. Capturing the classic air of tragic romance and blending it with modern urban drama, this is an immersive New York slice of life. A diverse web of stories weave believably on the pages and the dialogue feels ripped from reality, while the characters are patiently developed and perpetually entertaining. The prose is unpolished at times, but Say Goodbye and Goodnight still sparkles with authenticity and endearing charm.–SPR Book Review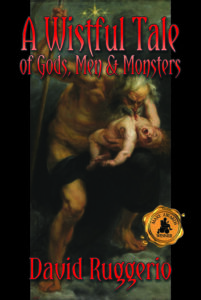 A Wistful Tale of Gods, Men and Monsters – On a Bookshelf Now!
Published by Black Rose Writing
A

Little

 Bit About My First Horror Novel–
Maxy Awards– 2019 Best Horror
Pencraft Awards– 2019 Best Fiction Horror
American Book Fest– 2020 Best Horror
Can a village be inherently evil?
Welcome to Brunswick NY, Population 4,941.
On the façade, this sleepy hamlet comes to life every autumn with picturesque apple orchards, haunted corn mazes, fun-filled pumpkin patches, and holiday hayrides. During a snowy Halloween, a young William Willowsby must battle evil forces that have been shielded by the locals for generations. On the outskirts of the town is the abandoned Forest Park Cemetery. All things wicked seem to revolve around the old graveyard. A rarely seen homunculus serves an evil taskmaster. Together they weave a wicked web that attempts to snare the youth of the hamlet. A creepy graveyard, a spooky schoolhouse, an abandoned mortuary and a member of his own family will leave you simply sleepless.
Now available at 
Amazon
, 
Targe
t, 
Walmart
, and
Barnes & Noble.
AUDIO BOOK NOW AVAILABLE ON iTUNES, AUDIBLE, AND AMAZON.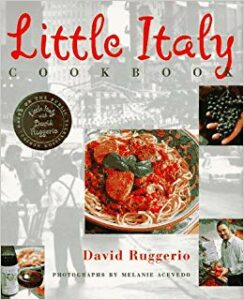 The Little Italy Cookbook
Published by Artisan Books
PUBLISHERS WEEKLY- In this companion volume to his PBS series, Little Italy with David Ruggerio, the very busy chef retreads some very familiar ground as he offers recipes for such Italian American standbys as Neapolitan Stuffed Peppers and Zabaglione. Ruggerio is the chef and owner of New York City's Le Chantilly restaurant. Here, however, he returns to his ethnic roots, playing the immigrant angle to the hilt in chatty, unfocused chapters organized around such themes as his grandmother and his friends. Recipe headers are anecdotal and often amusing, such as the story of a dog named Val (named for Rudolph Valentino). Some other headers are frustrating, however: the one for Orecchiette with Broccoli Rabe tells the reader "fresh pasta is better" but fails to include instructions for making orecchiette (there's a recipe for pasta dough, but orecchiette are made from the eggless dough). Recipes for standards such as Pizza Margherita, Polenta with Sausage and Tomato Sauce and Amaretto-Chocolate Cheesecake are competently executed. A few vegetable pies–e.g., the Grain Pie traditionally prepared for Easter and a Pasta, Ricotta, and Dandelion Pie–offer fresh tastes. This is a bighearted, unpretentious cookbook–and Ruggerio has no qualms about promoting friends, insisting, for example, that Colavita olive oil is the best.  Available on Barnes & Noble and Amazon.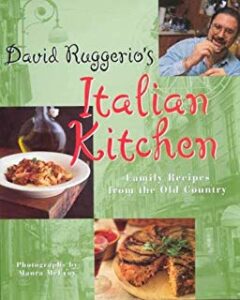 David Ruggerio's Italian Kitchen
Published by Artisan Books
PUBLISHERS WEEKLY-Classically French-trained chef (formerly of Le Chantilly in New York City) and former Food Network host Ruggerio returns to his southern Italian roots (via Naples, Sicily, and Brooklyn) with irrepressible enthusiasm. Ruggerio draws a distinction between the cooking of Naples (from his mother's side), which is "colorful and accessible, using mostly basic ingredients,"" and that of Sicily (his father's homeland), which he describes as "complex and subtle, calling for some `exotic' ingredients."" More than 150 recipes from both regions are folded into the book's seven chapters: antipasti, soups, pasta, fish and shellfish, meat and fowl, vegetables and desserts. Unlike many Italian cookbook chefs, Ruggerio sincerely attempts to enlighten readers about the country's regional differences. In short essays, he differentiates, for example, between the Neapolitan and Sicilian dialects and the "Fisherman in the Bay of Naples" and "La Tonnara," the Sicilian tuna fishing tradition, often with tongue-in-cheek humor. The straightforward recipes aim for authentic, traditional preparations, such as Silken Scallion Soup with Squid, She-Crabs Marinara, Saut ed Sweet-and-Sour Tuna Steaks, Tripe Parmesan, Chicken Baked in Clay and Neapolitan Cauliflower Salad. Instructive sidebars introduce readers to Italian fundamentals, such as cooking pasta, filleting fish and roasting peppers. Alternating between entertainer and teacher, Ruggerio regales readers with countless amusing anecdotes, from yarns about his overprotective, meddling Sicilian aunt Josie (who insisted her daughter spend her honeymoon at home) to his hypochondriac friend Joey Baccala. Melding a bent for tall tales with alluring preparations, Ruggerio inspires readers to explore southern Italy with a smile and an adventurous palate.  Currently available on
Barnes & Noble
 and 
Amazon
.