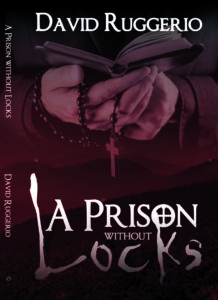 Respected US Review of Books loves David Ruggerio's new horror novel, A Prison Without Locks. This is the second foray into the horror genre for the celebrity chef. Due out on November 25th, 2020, this promises to give you many a sleepless night. If you are afraid of the dark, maybe you should avoid this scary tale. Soon available at Barnes & Noble and Amazon.com for advanced sales. Stay tuned for give away's and events.
"There isn't a person alive who doesn't fear being closed in, fear being trapped in darkness, fear those fanciful monsters who cage us with fear itself."
Ruggerio's devilish novel asks a probing question: what are you afraid of? His story begins with a journalist writing of the events taking place in Wawarsing. It is a seemingly idyllic town that rests at the foot of the Catskills Mountains (of Sleepy Hollow fame) surrounded by Witch's Hole State Forest. Something is happening to its residents, and strange, sinister occurrences have people on edge.
In the night, the dead are reborn under the watchful eye of the mysterious Doctor Roger Pretorius and his equally disturbing "rescued dwarf" and sidekick, Henry Howard Holmes. Pretorius resides in the old and presumably haunted mansion with a foreboding epithet proclaiming it as "a prison without locks." Pretorius's dark past reaches the town and endangers everyone. On the cusp of Halloween, a brutal winter storm ushers in these new dangers, threatening to trap the town's residents. In an ultimate showdown, Father Shea Calhoun and Sister Beatrice work together with others to face the rising evil and try to stop it.
Horror novels come with expectations, and Ruggerio's meets them. His Lovecraft-inspired tale includes the necessary (and predictable) tropes: an eerie town; malevolent, supernatural characters; spine-tingling sensations of what lurks in the dark; the macabre, demonic possessions; and the battle between good and evil. It is clear from reading just how much Ruggerio enjoyed writing this story, and he's particularly effective at creating spooky, atmospheric settings and characters that lean toward Gothic horror. One example involves an old cow tunnel and a darkness that curls "away into endless obscurity." Though the novel boasts a large cast, it's still easy to follow the plot, which is filled with vivid and cinematic moments. Any horror novel fan will appreciate Ruggerio's endeavor with this newest entry in the genre. — Dylan Ward for US Review of Books.